I was recently interviewed in My Money Counts in which I discuss my relationship with my wife when it comes to managing our finances. If you haven't done so, please check it out! Thanks Pamela for featuring me 🙂
---
In a previous life (i.e. 3 years ago), I couldn't wrap my head around budgeting. This was coming from a guy who worked in finance and could Index/Match with the best of them. As a number crunching desk jockey I spend my days working in Excel. I had zero desire to create a budget spreadsheet to manage our finances. 
Once I found my Why when Addie was born my wife and I finally got on a budget. While it wasn't easy at first, the thing that clicked for us was when we redefined what a budget really is.
Looking back, there were some misconceptions that I had that prevented us from budgeting for a long time:
Budgeting is too Complicated
In the past we tried and failed several times to budget using an Excel spreadsheet. I went over piles of receipts and tried to keep track of each transaction. Reconciling every purchase to a budget category just never really worked for us. We were never disciplined enough to stick to our budget for very long.
Budgeting is only complicated if you make it complicated. There are so many programs that make budgeting easy. You don't have to be a math nerd or Excel wiz anymore. Some of these apps even link to your accounts so it makes managing your finances a lot less painful. There's Mint, Personal Capital, or my favorite YNAB. With YNAB I'm able to look at and update my budget anytime, anywhere.
Budgets are Restrictive
I used to hate the idea of budgets because I felt that it showed me what I couldn't buy.
Nowadays I think the complete opposite.
In a previous post, I've written about how my wife and I buy whatever we want. We have a healthy amount of money that we budget for fun. As long as we take care of our important expenses first (bills, savings, investing) we don't feel guilty buying random crap every now and then. Once you decide what's important in your life, you figure out how that fits in your budget.
Budgeting is Too Time Consuming
Anytime people tell me they don't have time to budget, I tell them to think of all the times they mindlessly look through Instagram or Twitter each day. Now replace ONE of those times with a quick glance at your Personal Capital or YNAB.
Done and done.
Yes, managing your budget might take some time, but it doesn't take THAT long. Most people spend more time deciding what to wear than they do on their budget.
Once we set up our categories in YNAB, maintaining our budget probably only takes at most a half hour each week to reconcile accounts. At the end of each month, my wife and I look at the past month and plan out the next month in our budget. This takes about 10 – 15 minutes.
We Didn't Need a Budget
My wife and I made decent money so I didn't think budgeting was necessary. We owned a home, were debt free*, and had enough left over to have fun and spend on whatever we wanted.
While we were pretty successful without budgeting, we could have done so much more.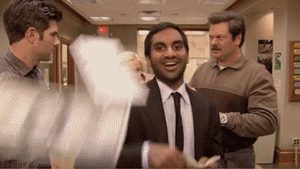 Some of the things we could have done had if we budgeted earlier:
Put more into our retirement accounts
Invested earlier
Traveled more
Paid off more of our mortgage*
Been a lot less stressed about money!
By not budgeting in the past, we were basically "winging it" when it came to our money. Which basically meant we were playing it by ear when it came to our future.
Your Budget, Your Life
Budgeting isn't about what you can or can't buy, it's about living the life you want. My wife and I want to retire early, go on vacations, and pay for our daughter's education. In the past I assumed that by working towards these goals we would be sacrificing fun in the present. Getting on a budget has helped prioritize our spending so that we could actually DO BOTH. I'm currently putting 35% of my paycheck in my 401k, Addie's college has $11k in it, AND have trips planned for both Hawaii and Portland this year.
Getting on a budget has not just changed our finances, but it changed our lives.
---
*my sister-in-law Paula corrected me that I'm not technically debt free if I have a mortgage. Goes to show you, that most people (me included in this instance) often don't think of a mortgage when they think of debt.