Since starting the blog, more people have come up to me about the challenges they face when it comes to managing their finances. I've heard it all – it's too hard, too boring, too complicated. Things like saving, investing, or retirement are foreign concepts to a lot of people. I was that way for most of my life.
You know what made those things easy for me?
It's all about finding your WHY.
Why Should I Save?
Why Should I Invest?

Why Should I Pay Attention to My Money?
Being awesome at money is pointless if there's no purpose behind it. Before I didn't have much of reason to pay attention and do well with our finances. I pretty much sucked when it came to managing our money. While my wife and I made good salaries and lived comfortably, we didn't have any real goals or plans for the future. As long as we had enough to pay the bills and have fun we were happy.
I Found My Why When My Daughter Addie was Born.
Once I found my Why, becoming BFFs with my money was easy (Shout out to my friend Alyssa at Mixed Up Money). Having a daughter gave me a better reason to save, invest, and look forward to the future. I want to take them to see the world. I want Addie's college to be paid for. I want to be weird and retire by 50 (or earlier).  Blowing through all our money and living for today wasn't good enough anymore. By paying more attention to our finances, I hope that Addie will have as bright of a future as possible.
What We Did to Get Our Money Right. 
I started reading personal finance books and blogs, listened to podcasts, and talked to others about money so that I could apply it to our lives. My wife and I started budgeting and having open conversations on a regular basis about our finances that didn't turn into arguments.We stopped spending money on random crap and became frugal (which on the outside some would think we became cheap 🙂 )
And Once I found my Why, a lot of great things happened to our family:
Living the Life You Want.
Don't get me wrong – Money isn't everything. Having enough money to swim in like Scrooge McDuck won't necessarily make you happy. Money is simply a tool to help you live the life you want. Whether it be sending your kid to college, going out on vacations, or even buying the newest iPhone every year, we all need money to achieve those goals.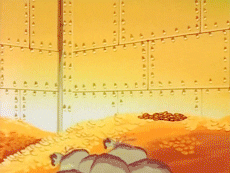 You need a reason to want to budget, save, and get out of debt.
You Need a Why.